Really looking forward to being one on the visiting artists at the BURREN COLLEGE OF ART SUMMER ACADEMY 2021 – ART & ECOSOCIAL JUSTICE with Dr. Cathy Fitzgerald,Dr Eileen Hutton, Gareth Kennedy and Ian Biggs.We will be exploring critical issues of our time such as Ecoliteracy, Agency for Change and Ecosocial justice.
_______________________
Are you an artist or a creative practitioner who is concerned with the cultural impact of the ecological emergency? Do you make work that centres on environmental and social concerns? Would you like to develop a deeper artistic engagement with these inevitably entangled key concerns?
The BCA Summer Academy is a new initiative, placing ecoliteracy and agency for ecosocial justice in the context of Ireland and beyond at the centre of an immersive three-week program. Weekly lectures and discussions will guide the trajectory of the programme with participants co-creating the necessary discursive space to foster a supportive community of peer exchange and enquiry.
Focusing on the studio, immersion in the protected limestone karst landscape of the Burren and collective activities, the Summer Academy combines artistic practice with seminars and workshops aimed at expanding creative discourse on how to best respond to the unprecedented and urgent challenges we all face.
The Summer Academy offers participants large scale studio spaces on the BCA campus in which to develop research and produce new work. Visiting Artist lectures and seminars take place each week alongside studio visits by Summer Academy Lecturers. Workshops include, but are not limited to, Walking, Collaboration & Foraging. Fieldtrips will also involve key BCA partners Burren Beo and the Burren GeoPark, who manage stewardship of the Burren as a protected environment.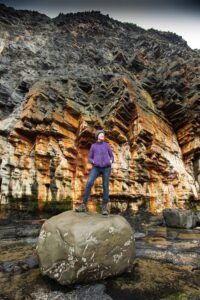 WEEK 1, JUNE 21: LISA FINGLETON
Lisa Fingleton is an artist, filmmaker, writer and grower. Living and working on a small organic, social farm near the sea, she has spent many years cultivating deep-rooted connections between art, food and farming. Her book The Local Food Project explores the power of growing and eating local food. Lisa is concerned about the fact that we are importing so much of our food and losing the capacity to be self sufficient, despite what we know about climate change and carbon footprint.
She strives to 'be the change' she wishes to see in the world and likes to walk the talk, grow the food and integrate life with her studio practice. For the last number of years she has been working closely with her partner Rena Blake on The Barna Way, an ecological art project on their farm. Last year they planted 10000 native trees on their land. She is fascinated about the interconnection beetween Land (Tallamh), Teanga (Language) and Environment (Timpellacht) and how this cross fertilisation can inform our actions in the future.
Lisa received an MA in documentary film at Goldsmiths College, London in 2015. She is also a Fine Art graduate from NCAD.